Learn How to Defend Yourself and Help Stop Bullying in Hilliard!
If you ever find yourself in a tough situation, you'll need to know how to defend yourself. That's why at Hilliard Taekwondo Academy we host events where we teach self defense techniques that will keep you safe. From women's self defense and beyond, we're here to prepare you for anything. Just fill out the short form on your screen today to learn more about our upcoming self defense events!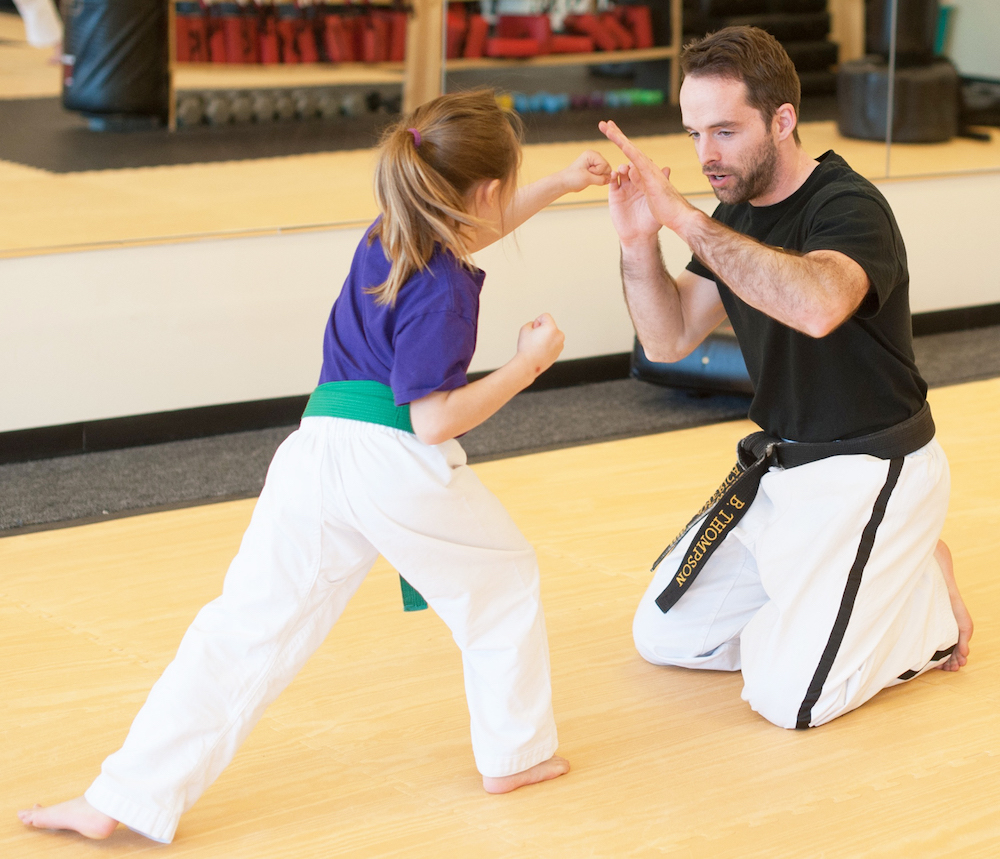 What Will We Do in a Basics Self Defense Class?
We'll have fun and learn basic, easy to remember, skills to help us avoid, evade and have a better chance of defending ourselves from unwanted attention or an attacker. We'll yell, punch and kick (you may be surprised at how good it feels to be able to hit things). This year we also added techniques to help you if faced with an armed attacker, (in Women's and teen/adult self-defense basics classes we practicing with partners and rubber training guns and knives. You won't become an expert at gun and knife disarming, but you'll feel a little more prepared if you are faced with a scary situation).
This basic class does not use an attacker in a padded suit to yell and swear at you. We don't learn complicated moves that you would have to practice daily for years to be able to use. We strike small padded targets to learn to punch and kick, and use large padded heavy bags to learn to strike with our knees and elbows. We learn how to decrease the odds of being chosen as an easy target and how to get away if we are grabbed. It's not meant to be scary and I don't quote a lot of frightening statistics. This class is meant to be fun and at the same time make you more aware of your surroundings, help you avoid potentially dangerous situations and give you more confidence about using your voice and kicking/striking an attacker. I encourage you to try all the skills we are teaching but you are never forced or bullied into doing anything that makes you uncomfortable.
We also offer Bully Prevention and Stranger Danger Clinics!
If you have kids in school (where bullying can happen) and since it's getting dark earlier you may be wondering if you can learn some self-defense techniques to help you feel a little safer. The answer is "Yes!"
You are able to also schedule to bring your group of 10 or more to us or we can come to your location for one of these clinics, depending on the date and time.
We don't teach complicated maneuvers that may seem really cool when you try them at a clinic, but would require you to tell an attacker to wait a minute while you think about which hand to put where. We focus on:
helping you avoid becoming a victim
learning how to use your voice and body language to deter an attacker or bully
how to use basic blocking, striking and kicking to increase your chances of getting away
Join Us in Hilliard Today to Help Stop Bullies and Learn Important Self Defense Techniques!
Fill out the short form on your screen today to learn more about our self-defense and bully prevention clinics!