Join The Best Teen and Adult Martial Arts Training in Hilliard Today!
If you're looking for a great place for your teen or yourself to gain strength while also getting in an aerobic workout, look no further than our Teen and Adult Martial Arts program. Not only will you see an increase in self-confidence and your level of health, you'll also learn how to defend yourself should a dangerous situation arise. Our Hilliard Taekwondo Academy family is a supportive one, and you'll be surrounded by like-minded people with similar goals. What are you waiting for? Join us in Hilliard today, or just fill out the short form on your screen to learn more!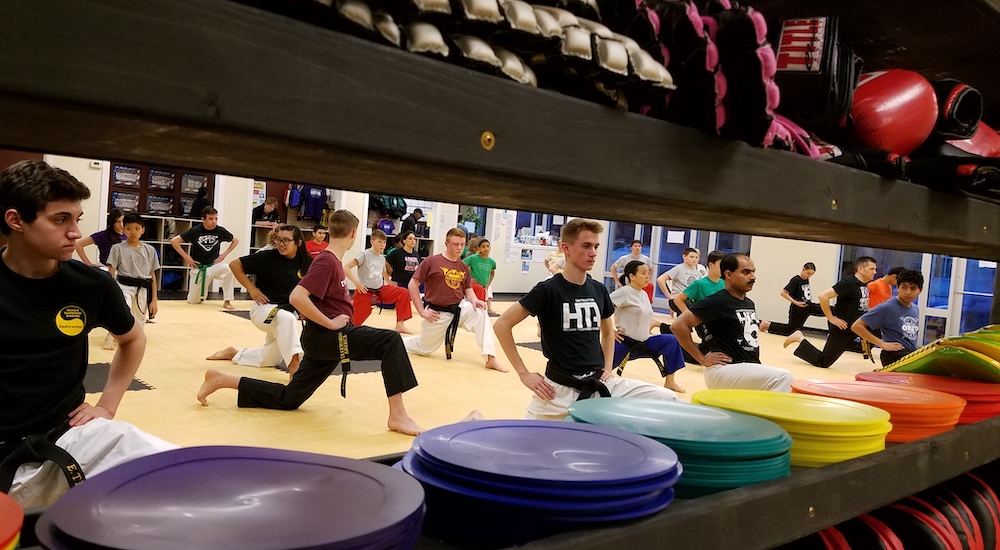 What Does Your Teen and Adult Martial Arts Program Include?
Our Adult and Teen can work out up to 5 times a week in classes designed to challenge experienced martial artists as well as those who are new to Taekwondo. Our program provides an excellent strength training and aerobic workout for wide range of ages and abilities. Every adult class begins and ends with time for stretching to either warm up or to cool down and increase flexibility. Activities are designed to allow each student to work out at their own pace and skill level as strength, flexibility and endurance improve.
You'll increase your self-confidence and feel healthier. In addition to learning your current belt level pattern of moves, practicing sparring or sparring movement drills and learning how to defend yourself, we use targets, slammers, pushups, sit ups and other equipment in a variety of fun and challenging activities to increase flexibility, improve muscle strength and build endurance. So, whether you are 13 or 53, Taekwondo may be the best way to achieve your health and exercise goals! The friendships you'll develop over time are just a bonus!
We've added additional equipment to help our students improve strength, toning, flexibility and cardio in addition to developing exceptional martial arts skills! Have you seen Battle Ropes or Agility Ladder drills and thought it would be cool to try? Do you need more flexible hips, stronger quads, more toned biceps & triceps, stronger abs (or just SOME abs)? Want to try foam rolling, exercise bands, medicine ball drills. Try one of our teen/adult classes and see what it's all about!
Our Monday, Wednesday, and Friday Morning Adult class is popular with adults who have flexible work schedules as well as stay at home parents.
Become a Part of the Hilliard Taekwondo Academy Family today!
Stop by and see us in Hilliard today for more information, or fill out the short form on your screen today and we'll be happy to reach out!